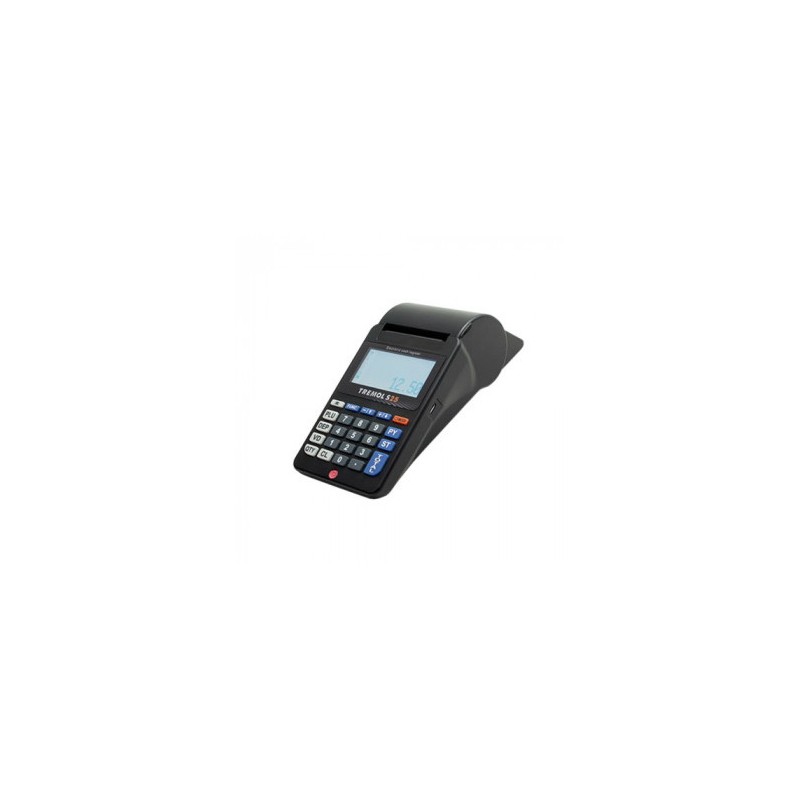  
The smallest and most compact cash register developed by Tremol. It provides the ability to connect to tablets, smartphones and mobile computers via WiFi (optional) and Bluetooth, which makes it extremely suitable for retail trade, courier activity, sites without permanent power supply, etc.
Characteristics
Fiscal memory: 2000 entries for daily reports + 270 for special events
Clock : Minimum 3 years
Customer display: Graphic 128 x 40 points /option/
Operator display: Graphic 160 x 80 points
Keyboard: 24 keys
Printer: Easy Load Line Thermal 8 dots/mm
speed: up to 75 mm/sec, 32 characters per line
Thermal paper: 57 mm width, 45 mm diameter
Battery: Li-Pol 7.4V/ 2200 mAh, charging from a standard USB 5V adapter (port).
Dimensions: 90 x 200 x 65 mm
Functionality
Departments : 40 with programmable: name (34 characters), price, tax group, price type, single transaction and ban
1 (DEP.00) without the possibility of programming
Items: Up to 65,000 with programmable: name (34 characters), price, price type, tax group, department affiliation, available quantity, quantity tracking, barcode
Tax groups: Up to 8, with the possibility of banning the last 4
Operators: Up to 20 with programmable name (20 characters) and password (up to 6 digits)
Customers: 1000 with programmable: name (26 characters), address (30 characters) MALL (16), BULSTAT (13), VAT No. (13)
Payments: 11 according to the data transfer scheme to the NRA.
1 currency with a programmable exchange rate to the main
Logo : 2 files - *.bmp file (384x80) B&W
Work modes: Programming, Sales (Fiscal Printer), Reports Z, Reports X
Voucher in electronic format : Yes
12 other products in the same category: